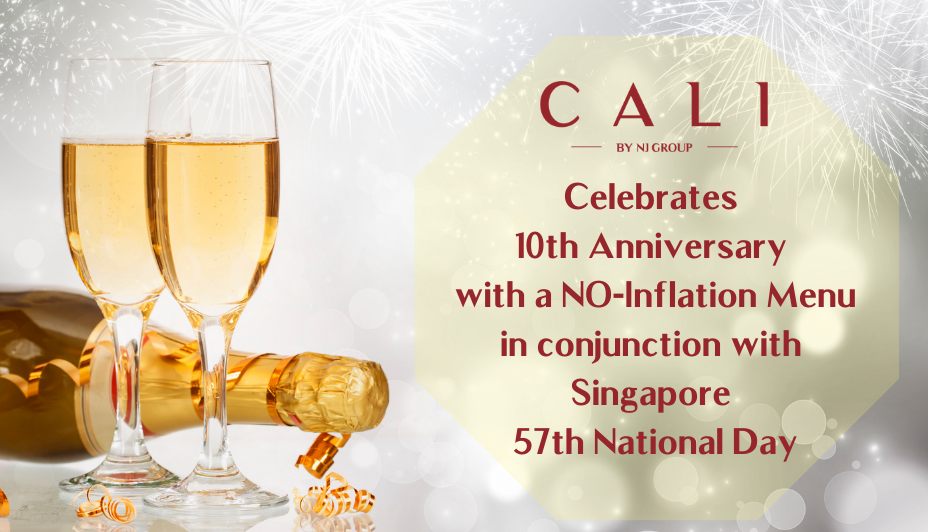 2022-06-13
Cali celebrates its 10th anniversary with a 'No-Inflation' menu in conjunction with Singapore's 57th National Day
Offer
---
A famous writer once said, "There are two ways of spreading light: to be the candle or the mirror that reflects it." This June 15, 2022, Singapore will be aglow with a joyous spirit. There will be excitement in the air. After all, it's when our beautiful island celebrates its 57th year of independence. And at Cali, we will be ready to be a grand mirror that reflects this momentous occasion because we are celebrating our 10th anniversary on the same day!
Even though we remember the journey that brought us here, it still overwhelms us to realize that we've been serving guests and customers in Singapore for a full decade. It's been nothing short of a spectacular ride with more ups than downs – thanks to the loyalty and benevolence of everyone who has experienced the Cali brand. 

So, from June 15 to August 14, 2022, we invite you to be a part of this double-whammy of a historic event. 
Here are three once-in-a-lifetime offers that will blow your mind. 
No-Inflation Menu

Who needs a time machine to relive the best parts of the past? Travel back to 2012 and enjoy our best-selling signature dishes from 10 years ago – at 2012 prices! Get ready to chew on our signature Philly Beef Steak Wrap for $16.90. Next, dig into some El Camino Chicken Thigh for $23.50. Is seafood more your style? Taste the finest Pan-Seared Salmon for a measly $28.50. 
57th National Day, $57 Menu